arrow_forward_ios

arrow_forward_ios
Mezereon (Spurge-olive)
7th century AH/AD 13th century
This illustration from Walters W.750 depicts mezereon (spurge-olive) (khamala, mazaryun, furus).
Provenance

Provenance (from the French provenir, 'to come from/forth') is the chronology of the ownership, custody, or location of a historical object.
Eustache de Lorey, France [date and mode of acquisition unknown]; Walters Art Museum, 1952, by purchase.
Geographies
Iran (Place of Origin)
Measurements
H: 11 5/8 x W: 7 7/8 in. (29.5 x 20 cm)
Credit Line
Museum purchase with funds provided by the S. & A.P. Fund, 1952
Location in Museum
Not on view
Accession Number

In libraries, galleries, museums, and archives, an accession number is a unique identifier assigned to each object in the collection.
W.750B.A
Do you have additional information?
Parent Object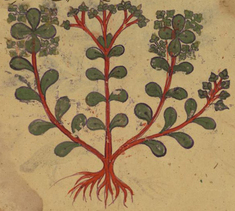 Four Leaves from the Arabic Version of Dioscorides' De materia medica
7th century AH/AD 13th century
view details