Dagger (aikuchi) with menuki of Benten and Tobosaku (includes 51.1192.1-51.1192.4)
Ca. 1469 (Momoyama)
Black and brown lacquer, steel, silver, gold, shakudo, iron

Dagger (aikuchi) with menuki of Benten and Tobosaku. Striped black and brown saya, iron mounts. Kozuka - Shishi with tassel bag. Inscription on kozuka blade according to entry on registrar's card.
Inscription
Measurements
17 11/16 in. (45 cm) (l.)mounted wakizashi or aikuchi
Credit Line
Acquired by Henry Walters before 1931
Location in Museum
Not on view
Accession Number

In libraries, galleries, museums, and archives, an accession number is a unique identifier assigned to each object in the collection.
51.1192
Do you have additional information?
Related Objects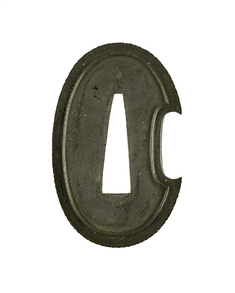 Fuchi with Gold Rim
19th century (?) (Edo-Meiji)
view details

Kozuka with Chinese-style Lion
view details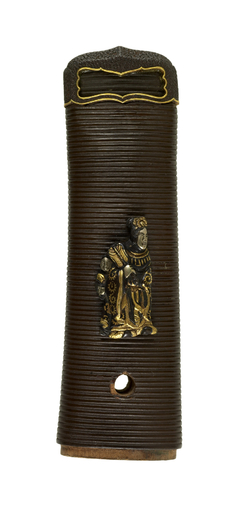 Tsuka with Chinese Figures
19th century (?) (Edo-Meiji)
view details