arrow_forward_ios

arrow_forward_ios
Single Leaf of an Elephant with Mahout Attacking Four Men
late 10th century AH/AD 16th century (Mughal)
This Mughal painting, Walters manuscript leaf W.702, depicts an elephant with a mahout attacking 4 men. Depictions of elephants became increasingly common in the Mughal period. Stylistically this example may be attributed to sometime in the late 10th century AH/AD 16th, although the Persian inscription on the page states that it was completed in Bukhara on the last day of Safar 731 AH/AD 1330. There are a few numbers inscribed on the page: 4500, 9, and 18. The work is framed by marbled paper and a border illuminated with animal and floral motifs. On the back is a sample of calligraphy in Nasta'liq script signed by Mirza Muhammad al-Katib and dated 983 AH/AD 1575-1576.
Provenance

Provenance (from the French provenir, 'to come from/forth') is the chronology of the ownership, custody, or location of a historical object.
Henry Walters, Baltimore [date and mode of acquisition unknown]; Walters Art Museum, 1931, by bequest.
Exhibitions
| | |
| --- | --- |
| 1987-1988 | Elephants. The Walters Art Gallery, Baltimore. |
Geographies
India (Place of Origin)
Measurements
H: 9 1/4 x W: 14 3/16 in. (23.5 x 36 cm); Image H: 5 1/2 x W: 6 1/2 in. (14 x 16.5 cm)
Credit Line
Acquired by Henry Walters
Location in Museum
Not on view
Accession Number

In libraries, galleries, museums, and archives, an accession number is a unique identifier assigned to each object in the collection.
W.702
Do you have additional information?
Related Objects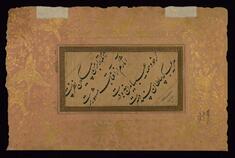 Elephant with Mahout Attacking Four Men (Back)
late 10th century AH/AD 16th century (Mughal)
view details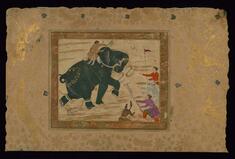 Elephant with Mahout Attacking Four Men
late 10th century AH/AD 16th century (Mughal)
view details