One of a Pair of Thirteen-sided Sake Cups with domestic and Rural Scenes
ca. 1900 (Meiji)
multi-colored overglaze enamels with overglaze calligraphy

One of a pair of 13-sided, footed sake cups, the exteriors rendered in enamels each with three panels of domestic and rural scenes surrounded by elaborate geometric designs taken from textile patterns. The interiors are painted with hundreds of japanese characters in overglaze calligraphy.
Inscription
Geographies
Japan (Place of Origin)
Credit Line
Gift of Stephen W. Fisher, 2005
Location in Museum
Not on view
Accession Number

In libraries, galleries, museums, and archives, an accession number is a unique identifier assigned to each object in the collection.
2005.78.6
Do you have additional information?
Related Objects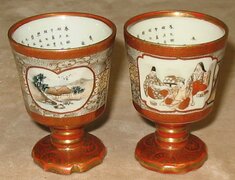 One of a Pair of Thirteen-sided Sake Cups with domestic and Rural Scenes
view details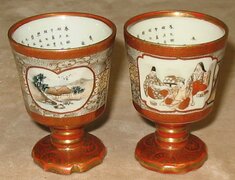 One of a Pair of Thirteen-sided Sake Cups with domestic and Rural Scenes
view details