arrow_forward_ios

arrow_forward_ios
Long sword (tachi) with paulownia mon (includes 51.1172.1-51.1172.4)
13th century (Kamakura)
Reddish gold dust lacquer, steel, gold, iron, shibuichi, sentoku, gilt, brocade, lead, shakudo

Reddish gold-dust saya with floral designs in gold leaf. Ishizuke, sai, sling-bands, obitori, sling buttons, dai seppa [2], fuchi, tsuka-ai all of copper and gold; mokko tsuba of iron, kabutogane of shibuichi, sarute of sentoku. Gilt koiguchi, habaki and seppa of gold. Two-handes tsuka with brocade and ito-maki, which extend down on the saya.
Wakizashi mounted as a tachi. Tsuba comes apart into 3 pieces; hearts and crosses. Fuchi, kashira: paulownia mon. Saya: kiro and unidentified mon.
Inscription
Geographies
Japan (Place of Origin)
Measurements
35 5/8 in. (90.5 cm) (l.) wakisashi mounted as tachi
Location in Museum
Not on view
Accession Number

In libraries, galleries, museums, and archives, an accession number is a unique identifier assigned to each object in the collection.
51.1172
Do you have additional information?
Related Objects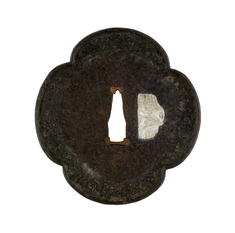 Tsuba of Iron
16th century (?) (Muromachi)
view details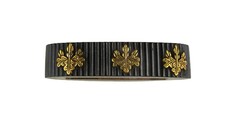 Fuchi with Paulownia Crests
view details

Tsuka with Paulownia Menuki and Silk
view details