arrow_forward_ios

arrow_forward_ios
Long Sword (tachi) decorated with various mon (includes 51.1173.1-51.1173.4)
Muromachi
Gold lacquer, steel, silver, shibuichi, gold, shakudo

Saya with gold-dust lacquer and gold leaf applied; some of it rising up. Ishizuke, sai, sling-bands, obi-tori koiguchi, habaki, seppa, dai seppa, tsuba, fuchi, tsuka and kabuto gane all of silver. Tsuka-ai gold mon, mekugi the same, one mekugi button is loose. Udenuki cord with ojime and metal tips.
Wakizashi mounted as Tachi. Tsuba comes apart into 3 pieces. Directions for putting mounts together inscribed on tsuba. Menuki: Myoga (ginger) mon. Saya: Ooka mon, 2 Aoi mon. Gold on lacquer of Saya is peeling off very badly--needs help.
Inscription
Provenance

Provenance (from the French provenir, 'to come from/forth') is the chronology of the ownership, custody, or location of a historical object.
Acquired by Henry Walters before 1931
Geographies
Japan (Place of Origin)
Measurements
31 5/16 in. (79.5 cm) (l.) wakizashi mounted as a tachi
Location in Museum
Not on view
Accession Number

In libraries, galleries, museums, and archives, an accession number is a unique identifier assigned to each object in the collection.
51.1173
Do you have additional information?
Related Objects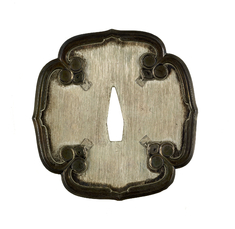 view details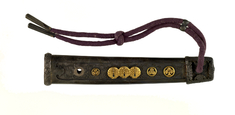 view details