arrow_forward_ios

arrow_forward_ios
Framed Panel with Jun [Chün] Ware Shards
Shards: 12th-15th century; Mounting: 18th-19th century
These shards of broken pottery likely date to the Song Dynasty. They were prized for their rich blue and purple colors. The shards were collected and mounted to show off their coloration. This may have taken place at the end fo the 18th century during the Qianlong [Ch'ien-lung] emperor's reign.
Provenance

Provenance (from the French provenir, 'to come from/forth') is the chronology of the ownership, custody, or location of a historical object.
William T. / Henry Walters Collection, Baltimore [date and mode of acquisition unknown]; Walters Art Museum, 1931, by bequest.
Geographies
China (Place of Origin)
Measurements
12 1/4 x 16 1/4 x 1 1/2 in. (31.12 x 41.28 x 3.81 cm)
Credit Line
Acquired by William T. or Henry Walters
Location in Museum
Not on view
Accession Number

In libraries, galleries, museums, and archives, an accession number is a unique identifier assigned to each object in the collection.
49.1302
Do you have additional information?
Related Objects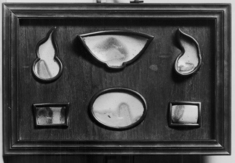 Framed Panel with Jun [Chün] Ware Shards
Shards: 12th-15th century; Mounting: 18th-19th century
view details