Fuchi with Magpies on a Bridge
mid 19th century (late Edo)
Three magpies are shown on a bridge over a stream. At the left is maiden flower. Magpies are associated with the festival of Tanabata because they were said to form a bridge with their wings which allowed the lovers Orihime and Hikoboshi to meet. The lovers are depicted on the matching kashira, Walters 51.1091.
Inscription
Provenance

Provenance (from the French provenir, 'to come from/forth') is the chronology of the ownership, custody, or location of a historical object.
William T. / Henry Walters Collection, Baltimore [date and mode of acquisition unknown]; Walters Art Museum, 1931, by bequest.
Measurements
1 7/16 in. (3.7 cm) (l.)
Credit Line
Acquired by William T. or Henry Walters
Location in Museum
Not on view
Accession Number

In libraries, galleries, museums, and archives, an accession number is a unique identifier assigned to each object in the collection.
51.1090
Do you have additional information?
Related Objects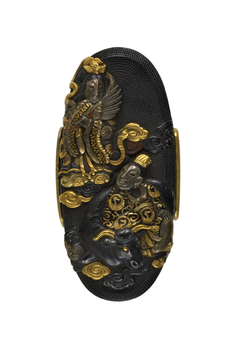 Kashira with Weaving Maiden (Jp. "Orihime") and the Shepard (Jp. "Hikoboshi")
mid 19th century (late Edo)
view details