arrow_forward_ios

arrow_forward_ios
Kogai with Waves
Like the other furniture in this suite, the kogai has a motif of waves. The kogai is actually two pieces ("warikogai") that can be used as chopsticks. This is part of a mounted set.
Provenance

Provenance (from the French provenir, 'to come from/forth') is the chronology of the ownership, custody, or location of a historical object.
Henry Walters, Baltimore [date and mode of acquisition unknown]; Walters Art Museum, 1931, by bequest.
Measurements
L: 5 1/2 in. (14 cm)
Credit Line
Acquired by Henry Walters
Location in Museum
Not on view
Accession Number

In libraries, galleries, museums, and archives, an accession number is a unique identifier assigned to each object in the collection.
51.1152.4
Do you have additional information?
Related Objects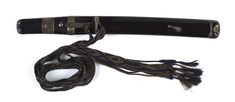 Dagger (aikuchi) with wave design on silver mountings (includes 51.1152.1-51.1152.4)
1629-1700 (Edo; Momoyama)
view details