arrow_forward_ios

arrow_forward_ios
Seal of the Sebastos Michael Boilas
In the Middle Ages, letters were usually rolled in a scroll and tied with a cord. Lead seals like the present one originally held these cords together so that they could not be tempered with. The versified inscription here identifies the owner of the seal (and the author of the piece of correspondence to which it was attached) as one Michael Boilas, sebastos (an honorific title). The obverse carries an image of his namesake and heavenly protector, the Archangel Michael. Cf. Walters 55.95 and 55.96.
Provenance

Provenance (from the French provenir, 'to come from/forth') is the chronology of the ownership, custody, or location of a historical object.
Henry Walters, New York, [date of acquisition unknown] by purchase; Sadie Jones (Mrs. Henry Walters), New York, 1931, by inheritance; Joseph Brummer, New York, by purchase; Douglas Gordon, Baltimore, by purchase; Walters Art Museum, 1942, by gift.
Measurements
1 7/16 in. (3.6 cm)
Credit Line
Gift of Douglas Gordon [formerly part of the Walters Collection], 1942
Location in Museum
Not on view
Accession Number

In libraries, galleries, museums, and archives, an accession number is a unique identifier assigned to each object in the collection.
55.65
Do you have additional information?
Related Objects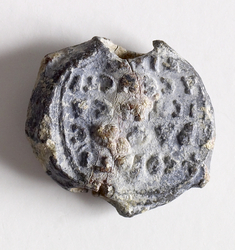 Seal with Saint Eustratius
view details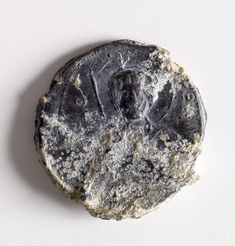 view details