Kogai with Long-legged Creature ("Ashinaga")
2nd half 18th century-1st half 19th century (late Edo)
Long-legged creatures called "ashinaga" supposedly lived on an island near Japan. They often socialized with long-armed creatures called "tenaga." The tenaga would sit on the ashinaga's shoulders to reach fruit on trees for them both to eat. This is part of a mounted set.
Inscription
Provenance

Provenance (from the French provenir, 'to come from/forth') is the chronology of the ownership, custody, or location of a historical object.
Henry Walters, Baltimore [date and mode of acquisition unknown]; Walters Art Museum, 1931, by bequest.
Measurements
L: 5 in. (12.7 cm)
Credit Line
Acquired by Henry Walters
Location in Museum
Not on view
Accession Number

In libraries, galleries, museums, and archives, an accession number is a unique identifier assigned to each object in the collection.
51.1204.3
Do you have additional information?
Related Objects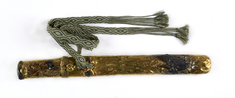 Dagger Depicting Tamatori Retrieving the Sacred Jewel from the Sea
1854 (Nambokucho-late Edo)
view details