arrow_forward_ios

arrow_forward_ios
Round Cover, Probably for a Box
The outside is inlayed with a frieze of blessings in nashki script, and the inside depicts a horseman fighting with an eagle. Seated figures appear along the rim.
The nashki script shows beautifully developed human-headed writing. [For more on anthropomorphic letters see Adolf Grohmann, "Anthropomorphic and Zoomorphic Letters in the History of Arabic Writing," Bull. de l'institut d'Egypte, 1958, p. 117-122.]
Provenance

Provenance (from the French provenir, 'to come from/forth') is the chronology of the ownership, custody, or location of a historical object.
Dikran Kelekian, New York and Paris [date and mode of acquisition unknown] [from the Hamadan Treasure]; Henry Walters, Baltimore, January 6, 1925, by purchase; Walters Art Museum, 1931, by bequest.
Geographies
Iran (Place of Origin)
Measurements
H: 11/16 x Diam: 3 11/16 in. (1.7 x 9.4 cm)
Credit Line
Acquired by Henry Walters, 1925
Location in Museum
Not on view
Accession Number

In libraries, galleries, museums, and archives, an accession number is a unique identifier assigned to each object in the collection.
54.515
Do you have additional information?
Related Objects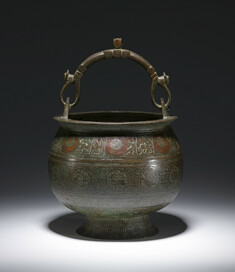 Bucket with Roundels and Signs of the Zodiac
view details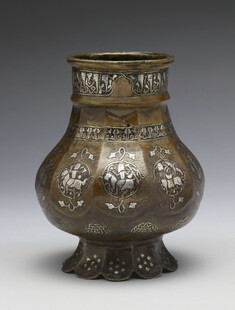 Vase with Signs of the Zodiac
12th-early 13th century (Medieval)
view details