arrow_forward_ios

arrow_forward_ios
Ottoman Diploma in Calligraphy
1219 AH/AD 1804-1805 (Ottoman)
Walters manuscript W.674 is a diploma/certificate (ijazah) granted to the Ottoman calligrapher Muhammad Hilmi Afandi (Mehmet Hilmi Efendi) in 1219 AH/AD 1804-1805 by four master calligraphers: Yaziji-zadah, Isma'il al-Zuhdi Katib al-Saray al-Sultani, Muhammad Hasib, and 'Ali al-Wasfi. The main text, consisting of a quotation attributed to the Prophet Muhammad and extolling the virtue of elegantly writing the doxological formula (basmalah), "in the name of God, the Compassionate, the Merciful," is executed in Thuluth and Naskh scripts.
Provenance

Provenance (from the French provenir, 'to come from/forth') is the chronology of the ownership, custody, or location of a historical object.
Henry Walters, Baltimore [date and mode of acquisition unknown]; Walters Art Museum, 1931, by bequest.
Geographies
Turkey (Place of Origin)
Measurements
Folio H: 6 5/16 x W: 8 11/16 in. (16 x 22 cm)
Credit Line
Acquired by Henry Walters
Location in Museum
Not on view
Accession Number

In libraries, galleries, museums, and archives, an accession number is a unique identifier assigned to each object in the collection.
W.674
Do you have additional information?
Related Objects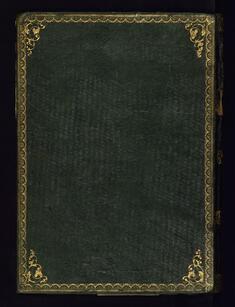 Binding from Ottoman Diploma in Calligraphy
view details