Dagger (aikuchi) with wood saya tsuka worked as a worm-eaten branch (includes 51.1289.1-51.1289.4)
1875-1900 (Edo; Meiji)
Steel, wood, shakudo, gold, silver

Fuchi, kashira - Monkey in tree. Menuki - Monkeys with persimmon. Saya - Monkeys (various stories).
Inscription
Geographies
Japan, Tokyo (Place of Origin) Mino (Place of Origin)

Measurements
Overall: 14 3/8 in. (36.5 cm)
Credit Line
Acquired before 1931
Location in Museum
Not on view
Accession Number

In libraries, galleries, museums, and archives, an accession number is a unique identifier assigned to each object in the collection.
51.1289
Do you have additional information?
Related Objects

Kozuka with Monkeys and Persimmons
1st half 19th century (Edo)
view details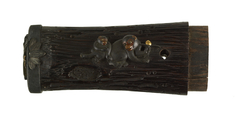 Tsuka in the Shape of a Branch with Monkeys and Eagle
view details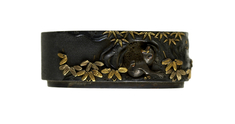 Fuchi with Monkey, Rock and Bamboo
view details