arrow_forward_ios

arrow_forward_ios
A Roman Slave Market
Gérôme depicts a woman being auctioned at a slave market in ancient Rome, foregrounding the sensuality of her nude body in front of a crowd of leering men. The artist painted several scenes of men assessing nude females of different races, the most famous of which portrayed a white courtesan on trial in ancient Greece, Phryné before the Areopagus, which was exhibited in 1861. Gérôme's focus on a white enslaved woman in A Roman Slave Market may have been influenced by the influx of Circassian women who were sold into slavery in the 1860s following the Russian defeat of the Circassians during the Caucasian War. Gérôme's depictions of female nudes displayed in slave markets circulated widely in the 19th century as prints and photographs, providing contemporary viewers with imagery for titillation despite—or perhaps undeterred by—the brutal subject matter.
Inscription
Provenance

Provenance (from the French provenir, 'to come from/forth') is the chronology of the ownership, custody, or location of a historical object.
Boussod Valadon et Cie.; James B. Haggin et al. Sale, New York, 1917, no. 119 [as "Sale of Circassian Slave,"]; Henry Walters, Baltimore, 1917, by purchase; Walters Art Museum, 1931, by bequest.
Exhibitions
| | |
| --- | --- |
| 2014-2016 | From Rye to Raphael: The Walters Story. The Walters Art Museum, Baltimore. |
| 2010-2011 | The Spectacular Art of Jean-Léon Gérôme. J. Paul Getty Museum, Los Angeles; Musee D'Orsay, Paris; Museo Thyssen-Bornemisza, Madrid. |
| 2002-2004 | A Magnificent Age: Masterpieces from the Walters Art Museum, Baltimore. The Walters Art Museum, Baltimore; The Nelson-Atkins Museum of Art, Kansas City; Mint Museum of Art, Charlotte. |
| 2000-2002 | Triumph of French Painting: Masterpieces from Ingres to Matisse. Baltimore Museum of Art, Baltimore; Philbrook Museum of Art, Tulsa; Norton Museum of Art, West Palm Beach; Dayton Art Institute, Dayton; Royal Academy of Arts, London; Albright-Knox Art Gallery, Buffalo. |
| 1996 | Millet and Barbizon Art. Matsumoto City Museum, Matsumoto City; Tokuyama City Museum of Art and History, Tokuyama; Kasama Nichido Museum, Kasama City; Ishikawa Prefectural Museum of Art, Kanazawa. |
| 1977 | Paris-New York, a Continuing Romance. Wildenstein & Company, New York. |
Conservation
| Date | Description | Narrative |
| --- | --- | --- |
| 1/11/1938 | Treatment | cleaned; other |
| 4/3/1962 | Treatment | cleaned; other |
| 8/17/1971 | Treatment | other |
| 5/1/1977 | Treatment | other |
| 4/8/1999 | Examination | examined for condition |
| 7/10/2009 | Examination | examined for condition |
Measurements
H: 25 1/4 x W: 22 3/8 in. (64.1 x 56.9 cm); Framed H: 37 3/8 x W: 35 x D: 7 3/8 in. (94.93 x 88.9 x 18.73 cm)
Credit Line
Acquired by Henry Walters, 1917
Location in Museum
Not on view
Accession Number

In libraries, galleries, museums, and archives, an accession number is a unique identifier assigned to each object in the collection.
37.885
Do you have additional information?
Related Objects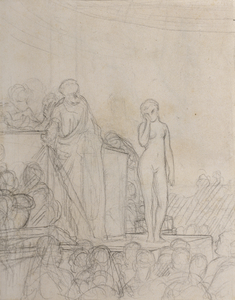 Study for "Slave Market at Rome"
view details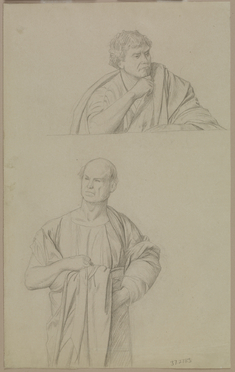 Study for "The Roman Slave Market"
view details