arrow_forward_ios

arrow_forward_ios
Relief with Goat
10th-9th century BCE (Neo-Hittite/Hurritic)
This relief was excavated in northern Syria at the site of Tell Halaf, the capital of a small independent city-state known as Guzana to the Assyrians, who conquered it in the late 9th century BCE. More than two hundred such stone reliefs (so-called orthostates) decorated the façade of a temple-palace built in the 10th century BCE by a local ruler named Kapara, son of Khadiânu. He reused the blocks from one or more pre-existing structures and carved an inscription in cuneiform on each one that states, "Palace of Kapara, son of Khadiânu." The blocks were placed so that limestone ones painted red alternated with others of black basalt. While the human images have been depicted in the less sophisticated, local style, many of the animal reliefs, such as the goat, may have been modeled on finely carved ivories imported from northern Syria and Phoenicia that were found at the site.
This rearing goat, looking back over its shoulder, was part of a traditional composition in which two goats flanked a sacred tree- a very old Mesopotamian motif. The rendering of the animal is relatively sophisticated, with even its muscles and fur indicated. King Kapara's full inscription appears in two neat lines to the right of the goat's head.
Inscription
Provenance

Provenance (from the French provenir, 'to come from/forth') is the chronology of the ownership, custody, or location of a historical object.
Max von Oppenheim, 1911-1913 [excavated at the lower course of the exterior wall of the temple of King Kapara at Guzana, Tell Halaf, Syria and sent to the United States for sale]; Alien Property Custodian of the United States, by 1943; Walters Art Museum, 1944, by purchase [with the assistance of the Metropolitan Museum of Art, New York].
Exhibitions
| | |
| --- | --- |
| 1978 | In Search of Ancient Treasure: 40 Years of Collecting. The Walters Art Gallery, Baltimore. |
Conservation
| Date | Description | Narrative |
| --- | --- | --- |
| 1/23/1978 | Treatment | cleaned |
| 5/3/1995 | Treatment | cleaned |
Measurements
25 x 15 15/16 x 8 7/8 in. (63.5 x 40.5 x 22.5 cm)
Credit Line
Museum purchase with funds provided by the S. & A.P. Fund, 1944
Accession Number

In libraries, galleries, museums, and archives, an accession number is a unique identifier assigned to each object in the collection.
21.17
Do you have additional information?
Related Objects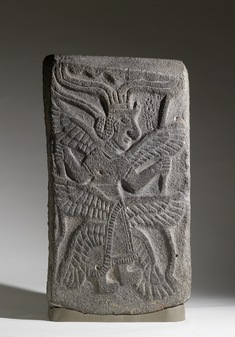 Relief with Six-Winged Goddess
10th-9th century BCE (Neo-Hittite/Hurritic)
view details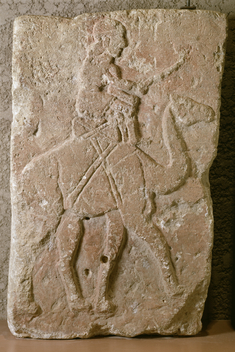 Relief with Dromedary Rider
10th century BCE (Neo-Hittite/Hurritic)
view details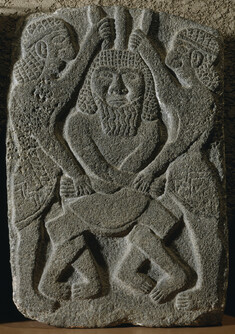 Relief with Two Heroes
10th-9th century BCE (Neo-Hittite/Hurritic)
view details