Fragment from a Stole (Omophorion) with Christ and the Four Evangelists
17th century (Early Modern)
This cross-shaped embroidery and its pendant, Walters 83.433, have been cut out from the lower halves of an omophorion, a stole worn by priests and bishops during the liturgy (cf. Walters 83.432). Both represent Christ flanked by the four evangelists who hold their respective Gospels.
Provenance

Provenance (from the French provenir, 'to come from/forth') is the chronology of the ownership, custody, or location of a historical object.
Henry Walters, Baltimore [date of acquisition unknown], by purchase; Walters Art Museum, 1931, by bequest.
Geographies
Greece (Place of Origin)
Measurements
H: 7/8 x W: 9 3/4 in. (25.08 x 24.77 cm)
Credit Line
Acquired by Henry Walters
Location in Museum
Not on view
Accession Number

In libraries, galleries, museums, and archives, an accession number is a unique identifier assigned to each object in the collection.
83.330
Do you have additional information?
Related Objects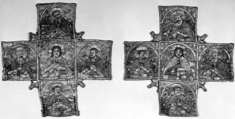 Fragment from a Stole (Omophorion) with Christ and the Four Evangelists
17th century (Early Modern)
view details