arrow_forward_ios

arrow_forward_ios
Fragment in Sunk Relief of Male Fecundity Figure Bearing Offerings
ca. 1270 BCE (New Kingdom, 19th dynasty, reign of Ramesses II)
These two (together with Walters 22.93) well-preserved painted relief sculptures originally belonged to a depiction of a procession of gods, who represented the 42 nomes, or regions, of Egypt. They once decorated the lower part of the southeast wall of the First Hall, containing eight columns, within a temple dedicated to the god Osiris, built at Abydos by Ramesses II. The lower portion of both figures remains in place in the Ramesses temple, where they are exposed to the elements. The reliefs shown here, however, have retained their vivid color.
The deities bring offerings for the cult of Osiris in Ramesses' name. Their faces follow the portrait style of Ramesses II, with oval eyes, slightly hollowed eyelids, a small mouth, and a prominent, beaked nose. Note the remains of the hieroglyph above each figure's head, indicating that he or she is the personification of a region. The raised area of these nome-signs retains red pigment. A portion of the abundant offerings the male deity bears is preserved. His blue skin associates him with the forces of creation. Original pigments also include yellow on the female deity's face, blue on her wig, and light green on the plant stalks she holds in her right hand.
Provenance

Provenance (from the French provenir, 'to come from/forth') is the chronology of the ownership, custody, or location of a historical object.
Dikran Kelekian, New York and Paris, [date and mode of acquisition unknown] [as from Deir el-Bahri]; Henry Walters, Baltimore, 1912, by purchase; Walters Art Museum, 1931, by bequest.
Conservation
| Date | Description | Narrative |
| --- | --- | --- |
| 10/24/1971 | Treatment | cleaned |
| 11/24/1998 | Examination | survey |
| 10/6/2000 | Treatment | other |
Measurements
10 1/4 x 14 3/16 x 2 3/16 in. (26 x 36 x 5.5 cm)
Credit Line
Acquired by Henry Walters, 1912
Accession Number

In libraries, galleries, museums, and archives, an accession number is a unique identifier assigned to each object in the collection.
22.100
Do you have additional information?
Related Objects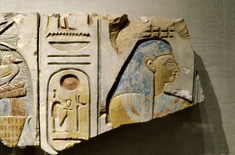 Fragment in Sunk Relief of Female Deity Bearing Offerings
ca. 1270 BCE (New Kingdom, 19th dynasty, reign of Ramesses II)
view details