Single Leaf of a Nilgai
Walters manuscript leaf W.865: this painting of a nilgai (also called a blue bull or Boselaphus tragocamelus), which is an antelope indigenous to Asia, is attributable to the reign of the Mughal emperor Shah Jahan (reigned AH 1037-1068/1627-1658 CE). Such animal studies were popular commissions among the Mughal emperors, who showed a marked curiosity about the natural world in their royal histories. Patronage of paintings of flora, fauna, and animals received a particular impetus under the Mughal emperor Jahangir (reigned AH 1014-1037/1605-1627 CE) and was continued under later Mughals. The detailed foliage in the foreground and the light green background are comparable to other studies of single animals dating to ca. AH 1049/1640 CE.
Provenance

Provenance (from the French provenir, 'to come from/forth') is the chronology of the ownership, custody, or location of a historical object.
John and Berthe Ford, Baltimore; given to Walters Art Museum, 2001.
Exhibitions
| | |
| --- | --- |
| 2001-2003 | Desire and Devotion: Art from India, Nepal, and Tibet in the John and Berthe Ford Collection. The Walters Art Museum, Baltimore; Santa Barbara Museum of Art, Santa Barbara; Albuquerque Museum, Albuquerque; Birmingham Museum of Art, Birmingham; Hong Kong Museum of Art, Hong Kong. |
Conservation
| Date | Description | Narrative |
| --- | --- | --- |
| 6/8/2017 | Examination | examined for exhibition |
Geographies
India (Place of Origin)
Measurements
H: 8 3/16 x W: 11 in. (20.8 x 27.9 cm); Framed H: 20 1/8 × W: 15 3/16 × D: 1 1/4 in. (51.12 × 38.58 × 3.18 cm)
Credit Line
Gift of John and Berthe Ford, 2001
Location in Museum
Not on view
Accession Number

In libraries, galleries, museums, and archives, an accession number is a unique identifier assigned to each object in the collection.
W.865
Do you have additional information?
Related Objects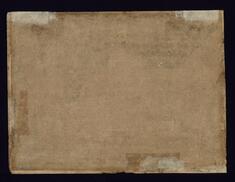 A Nilgai (Back)
1031-1059 AH/AD 1625-1650 (Mughal)
view details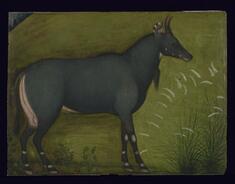 A Nilgai
1031-1059 AH/AD 1625-1650 (Mughal)
view details