arrow_forward_ios

arrow_forward_ios
Long Sword (katana) with silver clouds and dragon (includes 51.1154.1-51.1154.4)
1851 (late Edo)
Steel, black lacquer, silver and gold

Dull black lacquer saya with raised cloud scrolls. Large kojiri in the form of a silver dragon; Another forms kashira and coils around the tsuka. Silver koichu with two characters. Sank kurikata. Gold seppa and habaki. Silver dragon tsuba. Carved in blade a dragon and sanko, and inscription with bee.
Inscription
Conservation
| Date | Description | Narrative |
| --- | --- | --- |
| 9/11/1964 | Examination | examined for condition |
Geographies
Japan (Place of Origin)
Measurements
38 9/16 in. (98 cm) (l.) mounted katana
Credit Line
Acquired by Henry Walters
Location in Museum
Not on view
Accession Number

In libraries, galleries, museums, and archives, an accession number is a unique identifier assigned to each object in the collection.
51.1154
Do you have additional information?
Related Objects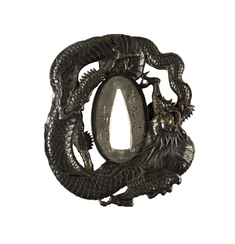 view details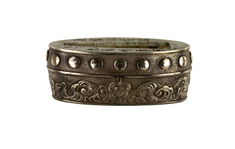 view details