arrow_forward_ios

arrow_forward_ios
Portrait of Raphaelle Peale
Affidavits affixed to the back of this portrait and WAM 38.444 assert that these portraits were painted by Charles Willson Peale and depict the artist's son and daughter-in-law. However this seems unlikely. This miniature is more in the style of Raphaelle Peale. The frame are not original to the paintings.
Inscription
Provenance

Provenance (from the French provenir, 'to come from/forth') is the chronology of the ownership, custody, or location of a historical object.
Peale family, Baltimore, until 1928; A.J. Fink, Baltimore [date and mode of acquisition unknown]; A. J. Fink Foundation, Inc., Baltimore, 1963, by bequest; Walters Art Museum, 1963, by gift.
Conservation
| Date | Description | Narrative |
| --- | --- | --- |
| 6/8/1964 | Treatment | other |
Geographies
USA (Place of Origin)
Measurements
Overall (excluding frame) H: 3 11/16 × W: 3 1/16 in. (9.3 × 7.7 cm)
Framed H: 5 3/8 × W: 4 5/8 in. (13.7 × 11.7 cm)
Credit Line
Gift of the A. Jay Fink Foundation, Inc., in memory of Abraham Jay Fink, 1963
Location in Museum
Not on view
Accession Number

In libraries, galleries, museums, and archives, an accession number is a unique identifier assigned to each object in the collection.
38.443
Do you have additional information?
Related Objects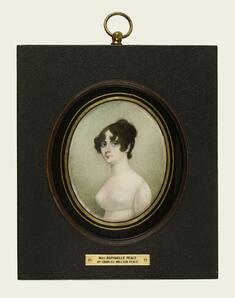 Portrait of Mrs. Raphaelle Peale (Margaret McGlathery Peale) (?)
view details