arrow_forward_ios

arrow_forward_ios
One Piece of a Mantle Garniture in the "Lange Eleizen" (Tall Gal) Pattern
This baluster shaped vase is the central element to a mantel garniture and is flanked by two trumpet vases decorated with similar framed figures and scenes (WALTERS 49.1841 and 49.1842). All three elements of the garniture are an example of decorative export porcelain commissioned for display in European homes. Decoration of this type appearing on blue and white porcelains is often referred to as the Lange Eleizen pattern, or "Tall Gal" for the multiple levels of pointed arch panels.
Sprays of peony flowers are painted on the short neck and fill the span of the uppermost series of arched panels; within are depicted The Eight Taoist Immortals. Each figure stands on scrolling clouds and can be identified by the emblems they carry. The central panels depict women with instruments standing in front of fences. Rockery and sprigs of plants emerge in the lower parts of each panel. The final series of framed arches are filled with pairs of standing women facing potted plants. Seated scribes and potted plants are painted on the bowl-shaped lid.
Inscription
Provenance

Provenance (from the French provenir, 'to come from/forth') is the chronology of the ownership, custody, or location of a historical object.
William T. or Henry Walters Collection, Baltimore [date and mode of acquisition unknown]; by bequest to Walters Art Museum, 1931.
Conservation
| Date | Description | Narrative |
| --- | --- | --- |
| 8/16/1971 | Treatment | cleaned |
| 4/9/2019 | Treatment | cleaned |
| 4/9/2019 | Treatment | The object was cleaned of dust and old museum wax. |
Geographies
China (Place of Origin)
Measurements
H: 16 1/8 in. (40.9 cm)
Credit Line
Acquired by William T. or Henry Walters
Location in Museum
Not on view
Accession Number

In libraries, galleries, museums, and archives, an accession number is a unique identifier assigned to each object in the collection.
49.1857
Do you have additional information?
Related Objects
One Piece of a Mantle Garniture in the "Lange Eleizen" (Tall Gal) Pattern
view details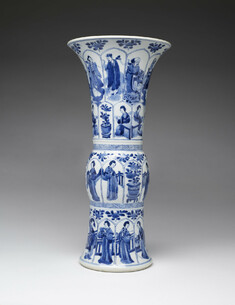 One Piece of a Mantle Garniture in the "Lange Eleizen" (Tall Gal) Pattern
view details