Part of an Altarpiece with Three Scenes from the Life of Saint Catherine
Catherine of Alexandria was one of the most popular saints in medieval western Europe. Legend describes her as a wise and beautiful virgin of noble birth who was executed for being a Christian. This image and its two associated panels (Walters 37.2487 and 37.2488) show Catherine confronting the Roman emperor, converting the learned pagans who were supposed to disprove her Christian beliefs, and, with the help of the Holy Spirit, confounding a second group of scholars sent to visit her in prison. The panels were once part of a triptych placed behind a church altar, where the entire story of Catherine's martyrdom was illustrated.
Provenance

Provenance (from the French provenir, 'to come from/forth') is the chronology of the ownership, custody, or location of a historical object.
Leopold Blumka, New York, prior to 1943, by purchase; Dr. R. Walter Graham, Jr., Baltimore, 1971, by purchase; Walters Art Museum, 1972, by gift.
Exhibitions
| | |
| --- | --- |
| 2012-2013 | Revealing the African Presence in Renaissance Europe. The Walters Art Museum, Baltimore; Princeton University Art Museum, Princeton. |
| 2010-2011 | From Van Eyck to Dürer: Artistic Exchanges between the Netherlands and Centeral, Eastern and Northern Europe c. 1420-1530. Groeningemuseum, Brugge. |
| 2008-2009 | Realms of Faith: Medieval and Byzantine Art from the Walters Art Museum. Museum of Biblical Art, New York; Colby College Museum of Art, Waterville; Joslyn Art Museum, Omaha. |
| 1988 | Time Sanctified: The Book of Hours in Medieval Art and Life. The Walters Art Gallery, Baltimore. |
| 1984-1985 | Illuminated Manuscripts: Masterpieces in Miniature. The Walters Art Gallery, Baltimore. |
Conservation
| Date | Description | Narrative |
| --- | --- | --- |
| 1/19/1974 | Treatment | technical study; examined for condition; re-framed |
| 1/21/1977 | Examination | examined for condition |
| 10/2/1984 | Treatment | examined for condition |
Measurements
H: 8 1/8 x W: 6 in. (20.7 x 15.2 cm)
Framed H: 10 x W: 8 x D: 1 1/8 in. (25.4 x 20.32 x 2.86 cm)
Credit Line
Gift of Dr. R. Walter Graham, Jr., 1972
Location in Museum
Not on view
Accession Number

In libraries, galleries, museums, and archives, an accession number is a unique identifier assigned to each object in the collection.
37.2486
Do you have additional information?
Related Objects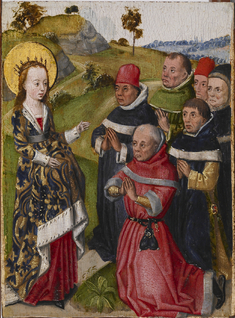 Saint Catherine Converting the Scholars
view details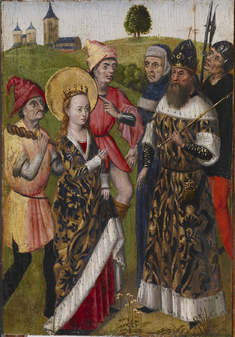 Saint Catherine Confronting the Emperor
view details