arrow_forward_ios

arrow_forward_ios
Urania, Muse of Astronomy
This is one of four large limestone figures that were originally installed as part of a set of 15 in the Palazzo Pisani in Venice, where they were placed in niches above the stairs leading to the library. As they were seen only from the front, their backs were left in a rough state. Gai has represented them as graceful, elongated creatures in greatly animated poses, wearing rich, wavy draperies. The figures are allegories, representing symbolically abstract concepts, or Muses, goddesses of the liberal arts. Their presence in connection with a library would allude to the pursuit of virtue through the study of the sciences and arts. Their individual identities remain uncertain, though some of their attributes correspond to those of figures in the "Iconologia," a widely read emblem book (a book of symbols and their meanings) by Cesare Ripa (Italian, ca. 1560-ca. 1625), first published in 1593.
Holding what looks like a sundial (missing its shadow-casting gnomon), this woman is probably Urania, the Muse of astronomy.
Provenance

Provenance (from the French provenir, 'to come from/forth') is the chronology of the ownership, custody, or location of a historical object.
Raoul Heilbronner, Paris; Glaenzer & Co., New York; Henry Walters, Baltimore, after 1900, by purchase; Walters Art Museum, 1931, by bequest.
Measurements
118 5/16 x 51 1/2 x 18 1/2 in. (300.5 x 130.8 x 47 cm)
Credit Line
Acquired by Henry Walters, after 1900
Accession Number

In libraries, galleries, museums, and archives, an accession number is a unique identifier assigned to each object in the collection.
27.293
Do you have additional information?
Related Objects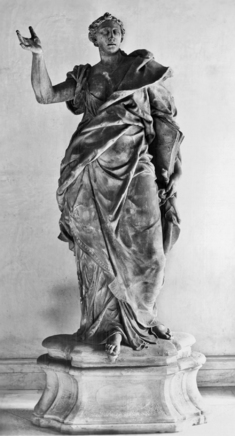 Allegory of Knowledge of Things
view details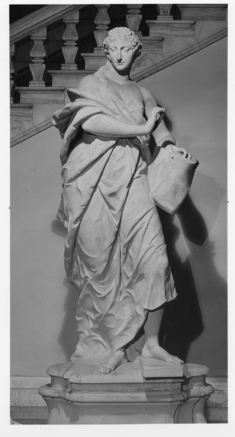 Allegorical Figure or Muse
view details