arrow_forward_ios

arrow_forward_ios
Single Leaf of Elephant Combat
13th century AH/AD 19th century (Mughal)
This single-leaf painting of elephants in combat, Walters manuscript leaf W.715, was executed in India during the 13th century AH/AD 19th in an archaizing style referencing Mughal traditions of the 11th century AH/AD 17th. The image of the mounted mahout, a person who drives an elephant, reproduces a popular theme in court painting in South Asia.
Provenance

Provenance (from the French provenir, 'to come from/forth') is the chronology of the ownership, custody, or location of a historical object.
Henry Walters, Baltimore [date and mode of acquisition unknown]; Walters Art Museum, 1931, by bequest.
Conservation
| Date | Description | Narrative |
| --- | --- | --- |
| 6/17/1981 | Examination | examined for condition |
Geographies
India (Place of Origin)
Measurements
H: 8 7/16 x W: 11 13/16 in. (21.5 x 30 cm); Image H: 7 7/8 x W: 10 13/16 in. (20 x 27.5 cm)
Credit Line
Acquired by Henry Walters
Location in Museum
Not on view
Accession Number

In libraries, galleries, museums, and archives, an accession number is a unique identifier assigned to each object in the collection.
W.715
Do you have additional information?
Related Objects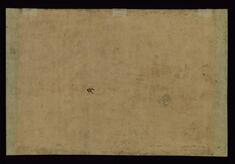 Elephant Combat (Back)
13th century AH/AD 19th century (Mughal)
view details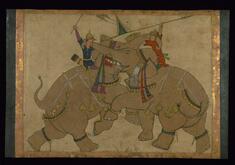 Elephant Combat
13th century AH/AD 19th century (Mughal)
view details