arrow_forward_ios

arrow_forward_ios
Chuko buyuden
Offering him a camellia--a symbol of perseverance--Somenoi (left) says good-bye to her husband, the hero Iori, when she is about to depart in order to enter a brothel. By so doing she will raise the money needed to retrieve a lost painting, one that had been entrusted to Iori and his brother by the lord whom they served.
Inscription
Provenance

Provenance (from the French provenir, 'to come from/forth') is the chronology of the ownership, custody, or location of a historical object.
Robert S. Shaull [date and mode of acquisition unknown]; Walters Art Museum, 1990, by bequest.
Credit Line
Bequest of Robert S. Shaull, 1990
Location in Museum
Not on view
Accession Number

In libraries, galleries, museums, and archives, an accession number is a unique identifier assigned to each object in the collection.
95.723
Do you have additional information?
Related Objects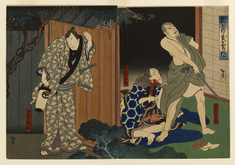 view details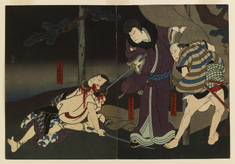 view details