arrow_forward_ios

arrow_forward_ios
Table with Acanthus Leaves and a Musical Trophy
This table is carved in very flat relief. The stem is depicted as a floriate baluster. The table has a triangular base with lions' feet. The top is carved with acanthus leaves, fantastic floriate monsters, and in the center, a trophy of musical instruments.
Provenance

Provenance (from the French provenir, 'to come from/forth') is the chronology of the ownership, custody, or location of a historical object.
William T. / Henry Walters Collection, Baltimore [date and mode of acquisition unknown]; Walters Art Museum, 1931, by bequest.
Geographies
Italy (Place of Origin)
Measurements
H: 36 9/16 x Diam: 29 15/16 in. (92.9 x 76 cm)
Credit Line
Acquired by William T. or Henry Walters
Location in Museum
Not on view
Accession Number

In libraries, galleries, museums, and archives, an accession number is a unique identifier assigned to each object in the collection.
27.474
Do you have additional information?
Related Objects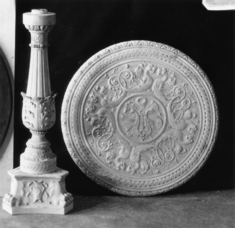 Top from a Table with Acanthus Leaves and a Musical Trophy
view details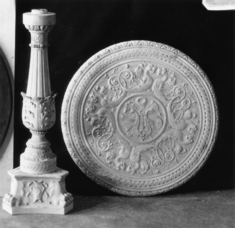 Base of a Table with Acanthus Leaves and a Musical Trophy
view details