Plaque with Pair of Eyes Symbolizing the All-seeing Power of God
Inscription
Provenance

Provenance (from the French provenir, 'to come from/forth') is the chronology of the ownership, custody, or location of a historical object.
Found near Ma'aret en-Noman, Syria, prior to 1945; Henri Seyrig, Beirut [date of acquisition unknown], by purchase; Walters Art Museum, 1956, by gift.
Exhibitions
| | |
| --- | --- |
| 1986 | Silver Treasure from Early Byzantium. The Walters Art Gallery, Baltimore. |
Measurements
1 9/16 x 1 11/16 x 1/8 in. (4 x 4.3 x 0.4 cm)
Credit Line
Gift of M. Henri Seyrig, 1956
Location in Museum
Not on view
Accession Number

In libraries, galleries, museums, and archives, an accession number is a unique identifier assigned to each object in the collection.
57.1865.561
Do you have additional information?
Related Objects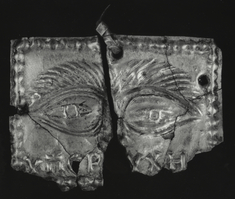 Votive Plaque with Eyes
6th-7th century (Late Antique)
view details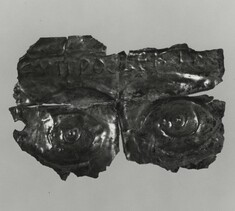 Plaque with Pair of Eyes Symbolizing the All-seeing Power of God
view details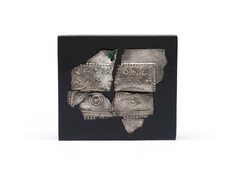 Plaque with Pair of Eyes Symbolizing the All-seeing Power of God
view details