arrow_forward_ios

arrow_forward_ios
Bust of William Thompson Walters
Rinehart, the son of a Carroll County farmer, enrolled at the Maryland Institute in Baltimore. Later, he found employment at a local marble yard carving fireplace mantles. In 1855, Rinehart visited Italy for the first time, and then returned briefly to Baltimore to open a studio. With the financial backing of his life-long friend and patron William T. Walters, Rinehard returned to Italy and and opened a studio in Rome, where he could draw on the skill of Italian marble carvers. He spent the rest of his life in Rome.
This bust of Walters was commissioned from Rinehart's Roman studio in 1867. Walters began the collection of art that became the Walters Art Museum. Walters made his fortune by dealing in rye whiskey, initially, then in railroads and banking after the Civil War. Twenty years after Rinehart created this bust, Walters commissioned him to make a statue of Roger B. Taney, former chief justice of the Supreme Court. Taney delivered the majority opinion in the Dred Scott decision of 1857, which ruled against federal regulation of slavery and maintained that Black Americans, free or enslaved, could not be citizens. The statue was a gift to the City of Baltimore and was erected in Mount Vernon Place in 1887. It was removed in 2017 along with three other Confederate monuments in Baltimore.
Inscription
Provenance

Provenance (from the French provenir, 'to come from/forth') is the chronology of the ownership, custody, or location of a historical object.
William T. Walters, Baltimore, 1867, by commission; Henry Walters, Baltimore, 1894, by inheritance; Walters Art Museum, 1931, by bequest.
Exhibitions
| | |
| --- | --- |
| 2014-2016 | From Rye to Raphael: The Walters Story. The Walters Art Museum, Baltimore. |
| 2015 | Rinehart's Studio: Rough Stone to Living Marble. The Walters Art Museum, Baltimore. |
| 2000-2002 | Triumph of French Painting: Masterpieces from Ingres to Matisse. Baltimore Museum of Art, Baltimore; Philbrook Museum of Art, Tulsa; Norton Museum of Art, West Palm Beach; Dayton Art Institute, Dayton; Royal Academy of Arts, London; Albright-Knox Art Gallery, Buffalo. |
| 1996 | Millet and Barbizon Art. Matsumoto City Museum, Matsumoto City; Tokuyama City Museum of Art and History, Tokuyama; Kasama Nichido Museum, Kasama City; Ishikawa Prefectural Museum of Art, Kanazawa. |
| 1995 | The Allure of Bronze. The Walters Art Gallery, Baltimore. |
| 1984 | The Taste of Maryland: Art Collecting in Maryland 1800-1934. The Walters Art Gallery, Baltimore. |
Conservation
| Date | Description | Narrative |
| --- | --- | --- |
| 6/22/1961 | Treatment | cleaned |
| 5/7/1984 | Treatment | cleaned |
| 5/10/1984 | Treatment | cleaned |
| 10/11/1989 | Treatment | cleaned; other |
| 12/6/1991 | Treatment | cleaned |
| 1/10/2000 | Loan Consideration | examined for loan |
| 1/20/2000 | Treatment | cleaned |
Measurements
H: 21 11/16 × W: 14 3/4 × D: 9 11/16 in. (55.1 × 37.5 × 24.6 cm)
Credit Line
Commissioned by William T. Walters, 1867
Location in Museum
Not on view
Accession Number

In libraries, galleries, museums, and archives, an accession number is a unique identifier assigned to each object in the collection.
28.9
Do you have additional information?
Related Objects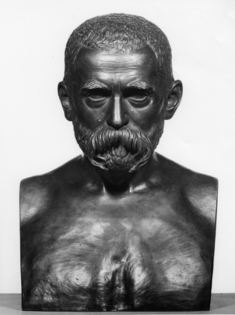 Portrait Bust of William T. Walters
view details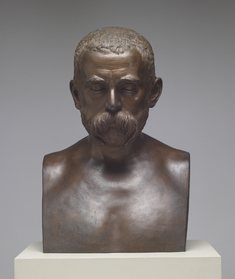 Bust of William T. Walters
view details