Single Leaf from Akbarnama by Abu'l Fazl
late 10th century AH/AD 16th century (Mughal)
This scene depicts a fatal quarrel described in the "Akbarnama" (a biography of the Mughal emperor Akbar, r. 1556–1605) by the court historian Abu'l Fazl ibn Mubarak (1551–1602). Note the men holding and shooting arrows from their bows as the main female protagonist raises her arms in alarm and protest.
The "Akbarnama" is written in Persian, the official language of the Mughal court, and is divided into three volumes. The first two volumes describe Akbar's genealogy and record royal events, as depicted here. The third volume contains geographic and ethnographic descriptions of India as well as a wealth of information on such subjects as the Mughal government, the royal workshops, and Hindu philosophy. Abu'l Fazl is known to have read sections of the biography aloud to Akbar for final approval.
Provenance

Provenance (from the French provenir, 'to come from/forth') is the chronology of the ownership, custody, or location of a historical object.
Fine Indian and Persian Miniatures Sale, Sotheby's, New York, March 25, 1987, lot 185; John and Berthe Ford, Baltimore [date and mode of acquisition unknown]; Walters Art Museum, 2001, by gift.
Exhibitions
| | |
| --- | --- |
| 2001-2003 | Desire and Devotion: Art from India, Nepal, and Tibet in the John and Berthe Ford Collection. The Walters Art Museum, Baltimore; Santa Barbara Museum of Art, Santa Barbara; Albuquerque Museum, Albuquerque; Birmingham Museum of Art, Birmingham; Hong Kong Museum of Art, Hong Kong. |
Conservation
| Date | Description | Narrative |
| --- | --- | --- |
| 12/28/2017 | Treatment | examined for exhibition; stabilized |
Geographies
India (Place of Origin)
Measurements
H: 13 9/16 x W: 8 3/4 in. (34.5 x 22.2 cm); Image H: 8 7/8 x W: 5 1/16 in. (22.5 x 12.9 cm); Framed H: 20 1/8 × W: 15 3/16 × D: 1 1/4 in. (51.12 × 38.58 × 3.18 cm)
Credit Line
Gift of John and Berthe Ford, 2001
Location in Museum
Not on view
Accession Number

In libraries, galleries, museums, and archives, an accession number is a unique identifier assigned to each object in the collection.
W.874
Do you have additional information?
Related Objects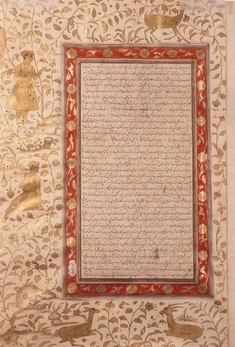 Leaf from Farhang-i Jahangiri
late 10th century AH/AD 16th century (Mughal)
view details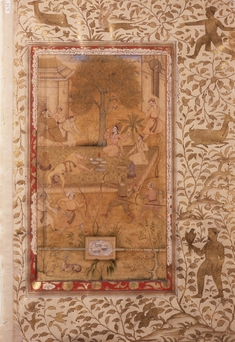 A Fatal Quarrel Over a Prostitute
late 10th century AH/AD 16th century (Mughal)
view details