arrow_forward_ios

arrow_forward_ios
Two Works on Precious Stones
Walters manuscript W.589 is a codex containing 2 short works on precious stones ascribed to Jamal al-Din al-Tifashi and Aristotle. The piece attributed to Aristotle is likely to be a paraphrase or extract from that author's Liber mineralium (or Lapidarius). This anonymous Ottoman copy was penned in 989 AH/AD 1581, possibly in Syria.
Provenance

Provenance (from the French provenir, 'to come from/forth') is the chronology of the ownership, custody, or location of a historical object.
Grand Vizier 'Ali Pasha (?) [date and mode of acquisition unknown] [erased waqf seal with shelf mark 1830 or 8830 on fol. 1a]; Henry Walters, Baltimore [date and mode of acquisition unknown]; Walters Art Museum, 1931, by bequest.
Exhibitions
| | |
| --- | --- |
| 2003 | The Cross and the Crescent: Books from the Ottoman Age. The Walters Art Museum, Baltimore. |
Geographies
Syria (Place of Origin)
Measurements
Folio H: 9 1/4 x W: 5 11/16 in. (23.5 x 14.5 cm)
Credit Line
Acquired by Henry Walters
Location in Museum
Not on view
Accession Number

In libraries, galleries, museums, and archives, an accession number is a unique identifier assigned to each object in the collection.
W.589
Do you have additional information?
Related Objects
Binding from Two Works on Precious Stones
18th century (?) (Ottoman)
view details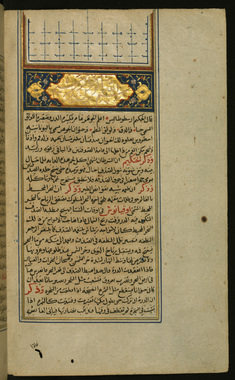 view details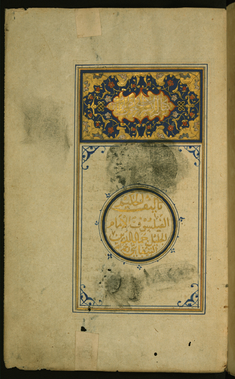 Illuminated Titlepiece and Medallion
view details