arrow_forward_ios

arrow_forward_ios
Three-Panel Icon with the "Deesis"
16th century (early Modern)
These exquisite panels form a group called a "Deesis" ("prayer" or "entreaty"), in which Christ is flanked by the Virgin and John the Baptist, who plead with him for mercy on behalf of humankind. Although the arrangement and choice of figures are Byzantine in origin, the simple and almost melancholy style of the painting identifies the artist as Russian. The three panels originally had revetments of chiselled gold or silver which covered their white unpainted background.
Provenance

Provenance (from the French provenir, 'to come from/forth') is the chronology of the ownership, custody, or location of a historical object.
Alexandre Polovtsoff (Aleksandr Aleksandrovich Polovtsov), Paris, by purchase; Henry Walters, Baltimore, 1931, by purchase; Walters Art Museum, 1931, by bequest.
Geographies
Russia (Place of Origin)
Measurements
12 1/4 x 10 3/16 x 13/16 in. (31.1 x 25.8 x 2.1 cm)
Credit Line
Acquired by Henry Walters, 1931
Accession Number

In libraries, galleries, museums, and archives, an accession number is a unique identifier assigned to each object in the collection.
37.568
Do you have additional information?
Related Objects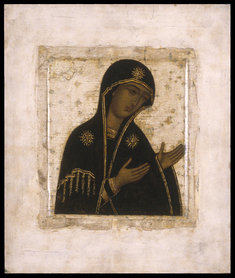 Virgin Mary
16th century (early Modern)
view details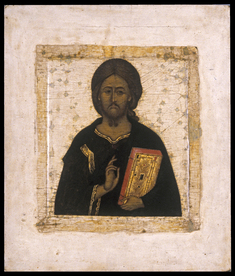 Christ Pantokrator
16th century (early Modern)
view details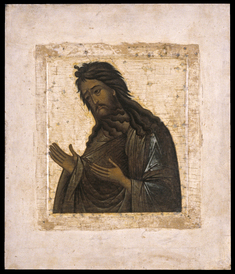 Saint John the Baptist
16th century (early Modern)
view details