arrow_forward_ios

arrow_forward_ios
Single Leaf of Six Spiritual Teachers
11th century AH/AD 17th century (Mughal)
This Mughal drawing, Walters manuscript leaf W.696, dating to the 11th century AH/AD 17th, depicts 6 spiritual teachers arranged in a semi-circle. Two of these figures are Hazrat Miyan Shah Mir (died 1045 AH/AD 1635) and his disciple Mulla Shah [Badakhshi] (died 1072 AH/AD 1661) (facing each other). Miyan Mir was a spiritual instructor of Dara Shikuh (died 1069 AH/AD 1659), the oldest son of the Mughal Emperor Shah Jahan. The other figures are: Hazrat Mulla Khvajah, Miyan Abu al-Ma'ali, Shah Muhammad Dilruba, and Shah Khayali.
Provenance

Provenance (from the French provenir, 'to come from/forth') is the chronology of the ownership, custody, or location of a historical object.
Henry Walters, Baltimore [date and mode of acquisition unknown]; Walters Art Museum, 1931, by bequest.
Conservation
| Date | Description | Narrative |
| --- | --- | --- |
| 7/8/1975 | Examination | examined for condition |
Geographies
India (Place of Origin)
Measurements
H: 10 1/8 x W: 7 3/4 in. (25.7 x 19.7 cm); Image H: 7 1/2 x W: 5 5/16 in. (19 x 13.5 cm)
Credit Line
Acquired by Henry Walters
Location in Museum
Not on view
Accession Number

In libraries, galleries, museums, and archives, an accession number is a unique identifier assigned to each object in the collection.
W.696
Do you have additional information?
Related Objects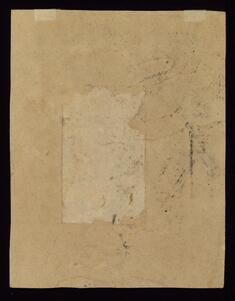 Six Spiritual Teachers (Back)
11th century AH/AD 17th century (Mughal)
view details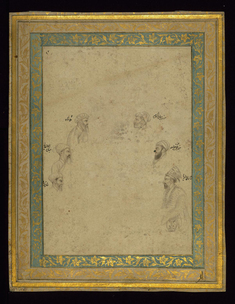 Six Spiritual Teachers
11th century AH/AD 17th century (Mughal)
view details