arrow_forward_ios

arrow_forward_ios
Single Leaf of the Virgin and Child
Muslim emperors and other connoisseurs in India collected images of the Virgin Mary and Jesus inspired by European models. Pictures of Mary and Jesus resonated with Muslims: Islam regards Jesus as a prophet, and an entire chapter of the Qur'an is dedicated to Mary, extolling her as an ideal woman. Indian artists began experimenting with European artistic techniques during the late 16th century, when Europeans, Jesuit missionaries in particular, brought religious prints and paintings to the Mughal court and taught royal artists European techniques, such as shading to create the illusion of three-dimensionality, demonstrated here in the flowing drapery of Mary's blue cloak.
Provenance

Provenance (from the French provenir, 'to come from/forth') is the chronology of the ownership, custody, or location of a historical object.
John and Berthe Ford, Baltimore; given to Walters Art Museum, 2002.
Exhibitions
| | |
| --- | --- |
| 2005-2006 | Pearls of the Parrot of India: The Emperor Akbar's Illustrated "Khamsa," 1597-1598. The Walters Art Museum, Baltimore; The Metropolitan Museum of Art, New York. |
Conservation
| Date | Description | Narrative |
| --- | --- | --- |
| 6/6/2017 | Examination | examined for exhibition |
Geographies
India (Place of Origin)
Measurements
H: 12 x W: 7 15/16 in. (30.5 x 20.2 cm); Image H: 6 9/16 x W: 4 1/16 in. (16.7 x 10.3 cm); Framed: H: 20 1/8 × W: 15 3/16 × D: 1 1/4 in. (51.12 × 38.58 × 3.18 cm)
Credit Line
Gift of John and Berthe Ford, 2002
Location in Museum
Not on view
Accession Number

In libraries, galleries, museums, and archives, an accession number is a unique identifier assigned to each object in the collection.
W.903
Do you have additional information?
Related Objects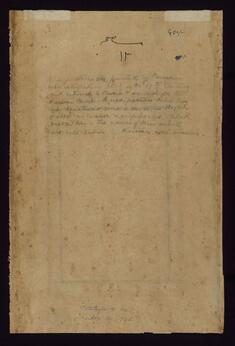 Virgin and Child (Back)
1008-1034 AH/AD 1600-1625 (Mughal)
view details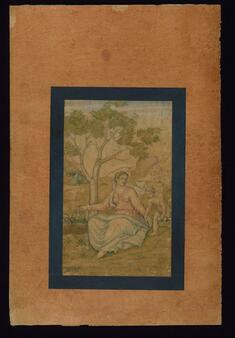 Virgin and Child
1008-1034 AH/AD 1600-1625 (Mughal)
view details