Single Leaf from a Gradual with the Assumption of the Virgin
This leaf originally belonged to a mid-thirteenth-century gradual from southern Germany, or possibly the Seitenstetten region of Austria. The pages contain the fragmentary hymns for the feasts of St. Lawrence and the Assumption of the Virgin. The illumination introduces the latter, in the form of a large historiated initial "G," and depicts the death of the Virgin surrounded by apostles in the lower portion of the initial, while revealing her assumption into Heaven above. Christ appears within a rainbow mandorla and holds a small figure representing Mary's soul, an image that is based on Byzantine iconography. Originally the verso of the leaf, the image was fortuitously preserved due to the recto having been re-used as an account book cover in the early seventeenth century, the title of which is still visible.
Provenance

Provenance (from the French provenir, 'to come from/forth') is the chronology of the ownership, custody, or location of a historical object.
Originally part of a gradual, South Germany or Seitenstetten region of Austria, mid-13th century; Page re-used as a book wrapper, Germany (?), 17th century [titled and dated on recto in large black letters: GeldtRegister / Anno / 1624 / Biss Anno / 1625]; L'Art Ancien, Zurich, before 1955; Walters Art Museum, December 1955, by purchase.
Exhibitions
| | |
| --- | --- |
| 2016-2017 | A Feast for the Senses: Art and Experience in Medieval Europe. The Walters Art Museum, Baltimore; The John and Mable Ringling Museum of Art, Sarasota. |
| 2006 | Schatzkammer: Henry Walters' German Manuscripts. The Walters Art Museum, Baltimore. |
| 1996-1997 | Music in Manuscripts. The Walters Art Gallery, Baltimore. |
Conservation
| Date | Description | Narrative |
| --- | --- | --- |
| 9/20/2016 | Treatment | examined for exhibition; media consolidation |
Measurements
H: 12 15/16 × W: 7 11/16 in. (32.8 × 19.5 cm)
Credit Line
Museum purchase, S. & A. P. Fund, 1955
Location in Museum
Not on view
Accession Number

In libraries, galleries, museums, and archives, an accession number is a unique identifier assigned to each object in the collection.
W.756
Do you have additional information?
Related Objects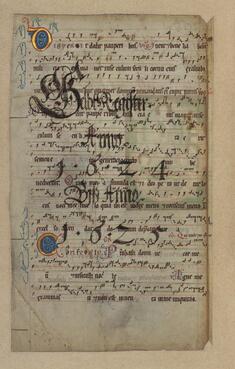 view details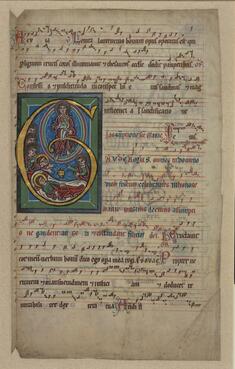 Initial "G" with the death and assumption of the Virgin
view details