no photo available
Turban Ornament
The three-part pin decorated the front of a Muslim man's turban. Mimicking feathers, the gilt coiled wires, once topped with pearls, would have waved with movement. The ornament is decorated with red stones. Are the gem stones rubies, garnets or glass? All the red stones are rubies, except one triangular stone at the base of the pin above the two prongs. Probably a replacement, the triangular stone does not fluoresce and was determined to be glass based on its composition, hardness and inclusions. The rubies or spinels fluoresce bright pink under UV light. Visually their color is further heightened by silver foil coated with a bright pink pigment or dye that is positioned behind the stones. The foil with traces of pink is visible where a ruby has been lost.
Provenance

Provenance (from the French provenir, 'to come from/forth') is the chronology of the ownership, custody, or location of a historical object.
Dikran Kelekian, New York and Paris, [date and mode of acquisition unknown]; Henry Walters, Baltimore, 1912, by purchase; Walters Art Museum, 1931, by bequest.
Exhibitions
| | |
| --- | --- |
| 2006-2009 | Bedazzled: 5,000 Years of Jewelry from the Walters Art Museum. Frist Center for the Visual Arts, Nashville; The John and Mable Ringling Museum of Art, Sarasota; The Walters Art Museum, Baltimore. |
| 1987-1988 | Woven from the Soul, Spun from the Heart: Textile Arts of Safavid and Qajar Iran. The Textile Museum, Washington; Santa Barbara Museum of Art, Santa Barbara; The Detroit Institute of Arts, Detroit. |
Conservation
| Date | Description | Narrative |
| --- | --- | --- |
| 7/29/1981 | Examination | examined for technical study |
Geographies
Iran (Place of Origin)
Measurements
Overall H: 11 in. (28 cm)
A (Pin) H: 5 15/16 × W: 2 1/2 × D: 15/16 in. (15.1 × 6.4 × 2.4 cm)
B (Feather-shaped ornament) H:: 4 1/8 × W: 1 3/4 ×D: 5/8 in. (10.5 × 4.5 × 1.6 cm)
C (Finial) H: 5 3/8 × W: 2 15/16 × D: 2 3/8 in. (13.7 × 7.4 × 6 cm)
Credit Line
Acquired by Henry Walters, 1912
Accession Number

In libraries, galleries, museums, and archives, an accession number is a unique identifier assigned to each object in the collection.
57.883
Do you have additional information?
Related Objects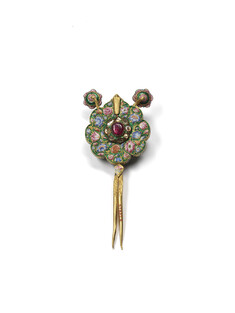 view details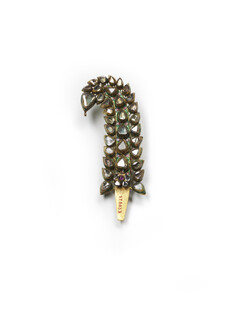 Feather-shaped Ornament from a Turban Ornament
view details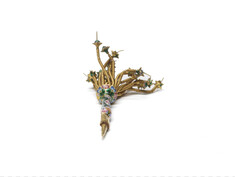 Finial from a Turban Ornament
view details