arrow_forward_ios

arrow_forward_ios
Single Leaf of a Mughal Emperor with a Document
12th-13th century AH/AD 18th-19th century (Mughal)
This painting, Walters manuscript leaf W.714a, depicts a Mughal emperor, yet to be identified, seated in an inlaid chair of European design, on the bank of a brook in a rocky landscape. He is reading an unrolled document which may have been presented to him by the figure standing to his left. The standing figure bears some physiognomic resemblance to portraits of the Mughal emperor Akbar (reigned AH 963-1014/AD 1556-1605). On the ground between the two figures is a crown and garment. A figure on horseback makes a gesture of surprise in the background. The painting was executed in India during the12th or 13th century AH/18th or 19th century AD. The polychrome floral borders surrounding the image are not much later than the image itself.
Provenance

Provenance (from the French provenir, 'to come from/forth') is the chronology of the ownership, custody, or location of a historical object.
Henry Walters, Baltimore [date and mode of acquisition unknown]; Walters Art Museum, 1931, by bequest.
Conservation
| Date | Description | Narrative |
| --- | --- | --- |
| 7/15/1964 | Treatment | re-housed |
| 8/26/1975 | Treatment | stabilized |
Geographies
India (Place of Origin)
Measurements
H: 14 x W: 9 1/4 in. (35.5 x 23.5 cm); Image H: 7 3/8 x W: 4 1/4 in. (18.8 x 10.8 cm)
Credit Line
Acquired by Henry Walters, before 1931
Location in Museum
Not on view
Accession Number

In libraries, galleries, museums, and archives, an accession number is a unique identifier assigned to each object in the collection.
W.714
Do you have additional information?
Related Objects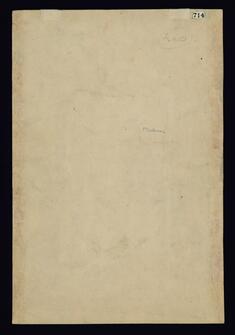 Mughal Emperor with a Document (Back)
12th-13th century AH/AD 18th-19th century (Mughal)
view details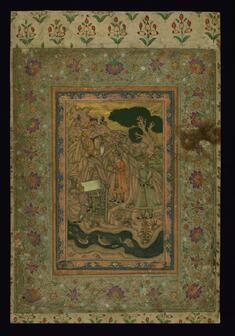 Mughal Emperor with a Document
12th-13th century AH/AD 18th-19th century (Mughal)
view details