arrow_forward_ios

arrow_forward_ios
Single Leaf of a Mounted Figure Attacked by a Lion
mid 10th century AH/AD 16th century (Safavid)
The image of a man on a horse fighting a lion evokes descriptions of heroic acts in Persian literature, which was read and recited aloud. Inscriptions at the bottom of the page name the royal artists Kamal al-Din Bihzad (died 1536–37) and Siyavush (died ca. 1616), an enslaved Georgian man who became a close friend of Shah Tahmasp (r. 1524–76). The presence of Bihzad's and Siyavush's names does not necessarily mean that these artists drew the composition. Instead, their names may have been written by another person who associated the subject and style of drawing with these two artists. The seal at the top of the page is dated AH 1126 (1714 CE). The borders, populated with a variety of flowers and animals, may also date to the 18th century.
Provenance

Provenance (from the French provenir, 'to come from/forth') is the chronology of the ownership, custody, or location of a historical object.
Kelekian Estate, 1952, by bequest; Walters Art Museum, 1952, by purchase.
Exhibitions
| | |
| --- | --- |
| 1966-1967 | Art of Persia. Ithaca College Museum of Art, Ithaca. |
Conservation
| Date | Description | Narrative |
| --- | --- | --- |
| 1/27/1977 | Treatment | mounted; re-housed |
| 11/28/2016 | Treatment | examined for exhibition; media consolidation; stabilized |
Geographies
Iran (Place of Origin)
Measurements
H: 12 13/16 x W: 8 11/16 in. (32.5 x 22 cm); Image H: 5 5/16 x W: 4 1/16 in. (13.49 x 10.3 cm)
Credit Line
Museum purchase, 1952
Location in Museum
Not on view
Accession Number

In libraries, galleries, museums, and archives, an accession number is a unique identifier assigned to each object in the collection.
W.747
Do you have additional information?
Related Objects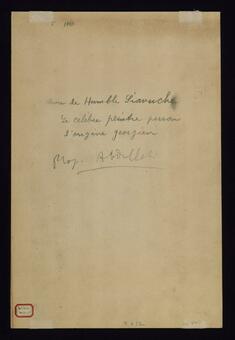 Mounted Figure Attacked by a Lion (Back)
mid 10th century AH/AD 16th century (Safavid)
view details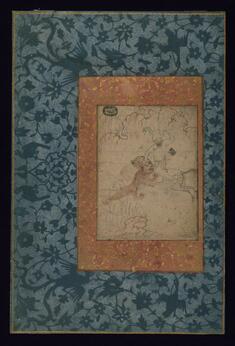 Mounted Figure Attacked by a Lion
mid 10th century AH/AD 16th century (Safavid)
view details