Kasugaya Tokijiro and Yamanaya Urasato by a Hibachi as Snow Falls Outside
A man Kasugaya Tokijiro and a woman Yamanaya Urasato, a courtesan, are both near an hibachi as the snow falls outside.
Inscription
Provenance

Provenance (from the French provenir, 'to come from/forth') is the chronology of the ownership, custody, or location of a historical object.
Justine Lewis Keidel [date and mode of acquisition unknown]; Walters Art Museum, 1986, by gift.
Measurements
Print A H: 14 x W: 9 3/4 in. (35.6 x 24.7 cm); Print B H: 14 x W: 9 3/4 in. (35.6 x 24.7 cm)
Credit Line
Gift of Justine Lewis Keidel, 1986
Location in Museum
Not on view
Accession Number

In libraries, galleries, museums, and archives, an accession number is a unique identifier assigned to each object in the collection.
95.134
Do you have additional information?
Related Objects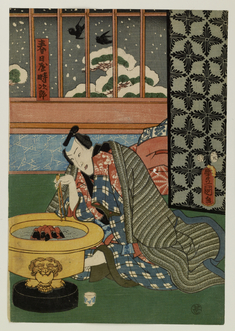 RL side of Kasugaya Tokijiro and Yamanaya Urasato by a Hibachi as Snow Falls Outside
view details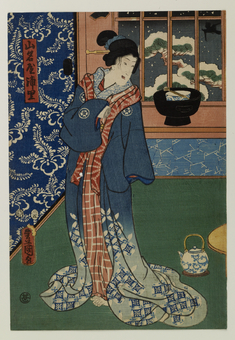 PR side of Kasugaya Tokijiro and Yamanaya Urasato by a Hibachi as Snow Falls Outside
view details