Dagger (aikuchi) with floral mounts
1567 (Muromachi)
Lacquer, silver, gold, steel, shakudo

Blade - Hata banner, Kojin Bonji. Mounts - flowers
Inscription
Provenance

Provenance (from the French provenir, 'to come from/forth') is the chronology of the ownership, custody, or location of a historical object.
Acquired by Henry Walters before 1931
Geographies
Bizen (Place of Origin) Mito (Place of Origin)

Measurements
14 3/4 in. (37.5 cm) (l.) mounted aikuchi
Location in Museum
Not on view
Accession Number

In libraries, galleries, museums, and archives, an accession number is a unique identifier assigned to each object in the collection.
51.1163
Do you have additional information?
Related Objects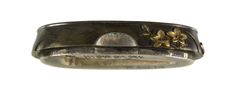 Fuchi with Chinese Bell Flowers
1804-1886 (late Edo-Meiji)
view details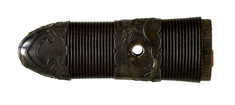 Tsuka with Autumn Flowers
1804-1886 (?) (late Edo-Meiji)
view details

Kogai with Autumn Flowers
1804-1886 (?) (late Edo; Meiji)
view details