Dagger (aikuchi) with sea life among waves (includes 51.1197.1-51.1197.3)
Ca. 1854 (late Edo-Meiji)
Silver, steel, gold, copper alloy, shakudo, brass, mother-of-pearl

Bonji on blade: 1st - Fudo Myo-o; 2nd - Konkara Doji; 3rd - Mato Kannon; 4th - Unknown.
Inscription
Geographies
Japan (Place of Origin) Edo (Place of Origin)

Musashi (Place of Origin)
Mito (Place of Origin)
Measurements
13 9/16 in. (34.5 cm) (l.) moutned aikuchi
Location in Museum
Not on view
Accession Number

In libraries, galleries, museums, and archives, an accession number is a unique identifier assigned to each object in the collection.
51.1197
Do you have additional information?
Related Objects
Fuchi with Shells and Seaweed
view details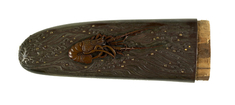 Tsuka with Waves and Sea Animals
19th century (late Edo-Meiji)
view details