arrow_forward_ios

arrow_forward_ios
Portrait Head of Augustus
ca. 50 CE (Roman Imperial)
Some of the finest examples of Roman sculpture are the outstanding portraits that commemorated important individuals. The Roman portrait tradition began with the life-like statues of the Republican period (509-27 BCE). These realistic portraits emphasized the age and experience of the respected elders of the family. In imperial times (27 BCE-410 CE), the emperor's portrait was copied and displayed in public places throughout the empire, and the manner in which he chose to be portrayed had an enormous impact on the style and fashion of the portraits, both public and private, of his contemporaries.
As the first emperor of Rome, Augustus created a new role for portraits in public life. Prominent images of members of the imperial family were intended to emphasize the expected continuation of the family's power. This head is from a group of imperial bronzes discovered in what is today the Via del Babuino, a street in Rome. Although only fragments remain, the head is of superb quality and clearly demonstrates the skill with which the artist carved the original wax model that was used to cast this statue.
Provenance

Provenance (from the French provenir, 'to come from/forth') is the chronology of the ownership, custody, or location of a historical object.
[Found with a cache of several heads, via del Babuino, Rome, 1880]; Don Marcello Massarenti Collection, Rome, by 1894, [mode of acquisition unknown]; Henry Walters, Baltimore, 1902, by purchase; Walters Art Museum, 1931, by bequest.
Conservation
| Date | Description | Narrative |
| --- | --- | --- |
| 1/1/1930 | Treatment | other |
| 1/1/1937 | Treatment | cleaned; mounted |
| 7/20/1970 | Treatment | cleaned |
| 9/6/1973 | Examination | examined for condition |
| 9/6/1973 | Treatment | cleaned; stabilized; loss compensation; mounted |
Measurements
H: 12 1/2 x W: 10 1/2 x D: 10 3/4 in. (31.8 x 26.6 x 27.3 cm)
Credit Line
Acquired by Henry Walters with the Massarenti Collection, 1902
Accession Number

In libraries, galleries, museums, and archives, an accession number is a unique identifier assigned to each object in the collection.
23.105
Do you have additional information?
Related Objects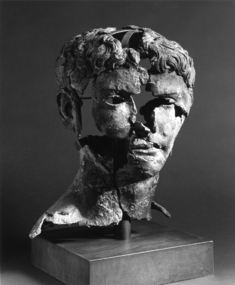 Head of a Member of the Julio-Claudian Family, Possibly Tiberius
1st century CE (Roman Imperial)
view details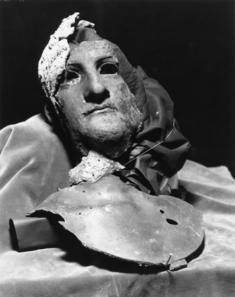 Fragments of a Head
1st century CE (Roman Imperial)
view details