Model with a King, Lion and Ear
ca. 746-335 BCE or modern (Late Period or modern)
The front of this model is carved in low relief and depicts a king in profile to the left. He has a jar in each hand. The back is carved in sunk relief and depicts a lion and an ear.
The piece has three corners broken off, and its authenticity is questioned.
Provenance

Provenance (from the French provenir, 'to come from/forth') is the chronology of the ownership, custody, or location of a historical object.
Dikran Kelekian, New York and Paris [date and mode of acquisition unknown] [claimed from Sakkara]; Henry Walters, Baltimore, 1923 [mode of acquisiton unknown]; Walters Art Museum, 1931, by bequest.
Measurements
L: 8 3/8 in. (21.2 cm)
Credit Line
Acquired by Henry Walters, 1923
Location in Museum
Not on view
Accession Number

In libraries, galleries, museums, and archives, an accession number is a unique identifier assigned to each object in the collection.
22.269
Do you have additional information?
Related Objects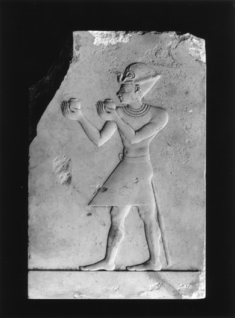 Model with a King, Ear, and Head of Ram
ca. 746-335 BCE or modern (Late Period or modern)
view details