Dagger (aikuchi) with a silver saya with dragons chasing jewels in clouds and an elephant head tsuka in silver (51.1286.1-51.1286.2)
Silver, steel, gold, brown lacquer

Kozuka, kogai - Waves heart shaped cutout; unusually small kozuka. Saya - Dragon with jewels in clouds; brown lacquer koiguchi; gold habaki. Tsuka - one piece, in form of an elephant's head.
Inscription
Geographies
Japan (Place of Origin)
Measurements
Overall: 14 3/16 in. (36 cm)
Credit Line
Acquired before 1931
Location in Museum
Not on view
Accession Number

In libraries, galleries, museums, and archives, an accession number is a unique identifier assigned to each object in the collection.
51.1286
Do you have additional information?
Related Objects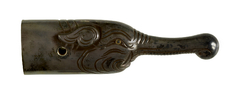 view details

view details