Single Leaf of a Monkey Riding a Goat and Three Sheep
early 11th century AH/AD 17th century (Safavid)
This album page, Walters leaf W.687, consists of 2 drawings and a sample of calligraphy written in Nasta'liq script by Hasan Shamlu on the back. The drawing in the upper register is of a monkey riding a goat. According to the Persian inscription it was executed by the celebrated Persian Safavid artist Riza-'i 'Abbasi (died 1044 AH/AD 1634) for his son Muhammad Qasim. The inscription reads, "Made for my son Muhammad Qasim. Work of the humble Riza-'i 'Abbasi." The drawing in the lower register depicts three sheep. On the back is a sample of calligraphy bearing the name Hasan Shamlu in the lower panel in the left corner of the page.
Provenance

Provenance (from the French provenir, 'to come from/forth') is the chronology of the ownership, custody, or location of a historical object.
Henry Walters, Baltimore [date and mode of acquistion unknown]; Walters Art Museum, 1931, by bequest.
Exhibitions
| | |
| --- | --- |
| 2002 | The Book of Kings: Art, War, and the Morgan Library's Medieval Picture Bible. The Walters Art Museum, Baltimore; Academy Art Museum, Easton; Princeton University Art Museum, Princeton; The Mitchell Gallery, Annapolis; Williams College Museum of Art, Williamstown. |
| 1984-1985 | Illuminated Manuscripts: Masterpieces in Miniature. The Walters Art Gallery, Baltimore. |
Conservation
| Date | Description | Narrative |
| --- | --- | --- |
| 10/18/1973 | Treatment | mounted; stabilized |
Geographies
Iran (Place of Origin)
Measurements
H: 14 3/8 x W: 9 7/16 in. (36.5 x 24 cm); Image 1 H: 3 7/8 x W: 2 9/16 in. (9.9 x 6.5 cm); Image 2 H: 3 3/4 x W: 3 9/16 in. (9.5 x 9 cm)
Credit Line
Acquired by Henry Walters
Location in Museum
Not on view
Accession Number

In libraries, galleries, museums, and archives, an accession number is a unique identifier assigned to each object in the collection.
W.687
Do you have additional information?
Related Objects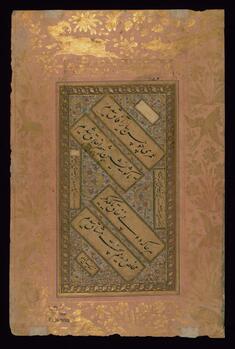 Specimen of Calligraphy Written in Nasta'liq Script
early 11th century AH/AD 17th century (Safavid)
view details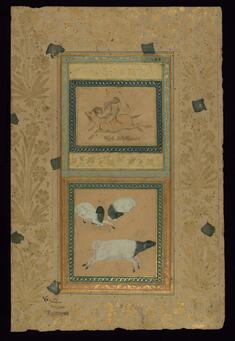 Monkey Riding a Goat and Three Sheep
early 11th century AH/AD 17th century (Safavid)
view details