arrow_forward_ios

arrow_forward_ios
Single Leaf of a Portrait of Shah Abbas I
Painting: 18th century; Calligraphy: 1582-1583 (Safavid)
According to the inscription in the upper panel of this manuscript leaf, Walters W.713, the painting depicts the Safavid ruler Shah 'Abbas I (reigned 996 AH/AD 1588-1038 AH/AD 1629). It was likely produced in India in the twelfth century AH/AD 18th. The Safavid ruler is shown in a stylized landscape. On the verso of the leaf is a sample of calligraphy in Nasta'liq script quoting verses by the Persian poet Sa'di Shirazi (died 691 AH/AD 1292). These verses were executed in Samarqand by Muhammad Amin ibn Baba Jan in 990 AH/AD 1582-1583.
Provenance

Provenance (from the French provenir, 'to come from/forth') is the chronology of the ownership, custody, or location of a historical object.
Henry Walters, Baltimore; by bequest to Walters Art Museum, 1931.
Conservation
| Date | Description | Narrative |
| --- | --- | --- |
| 7/22/1975 | Treatment | stabilized |
Measurements
H: 14 15/16 x W: 10 1/16 in. (38 x 25.5 cm)
Credit Line
Acquired by Henry Walters
Location in Museum
Not on view
Accession Number

In libraries, galleries, museums, and archives, an accession number is a unique identifier assigned to each object in the collection.
W.713
Do you have additional information?
Related Objects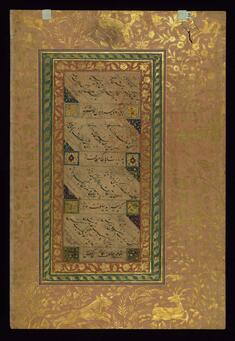 Calligraphic Verses
Painting: 12th century AH/AD 18th century; Calligraphy: 990 AH/AD 1582-1583 (Safavid)
view details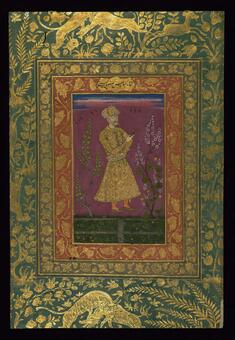 Portrait of Shah Abbas I
12th century AH/AD 18th century (Safavid)
view details