arrow_forward_ios

arrow_forward_ios
Young Man with a Flower
11th century AH/AD 17th century (Safavid)
This single-leaf painting of a young man in a blue robe and red undergarment, Walters manuscript leaf W.680, was produced in Safavid Iran in the 11th century AH/AD 17th. The youth sits in a landscape smelling a flower. Images of elegantly dressed men and women were exceedingly popular in Safavid Iran. They circulated as loose leaves and were collected into albums (muraqqa'). The work is painted in opaque watercolor and gold.
Provenance

Provenance (from the French provenir, 'to come from/forth') is the chronology of the ownership, custody, or location of a historical object.
Henry Walters, Baltimore [date and mode of acquisition unknown]; Walters Art Museum, 1931, by bequest.
Conservation
| Date | Description | Narrative |
| --- | --- | --- |
| 12/3/1974 | Examination | examined for condition |
| 12/17/1974 | Treatment | stabilized |
| 7/1/1975 | Treatment | stabilized |
| 2/27/2017 | Treatment | filled; loss compensation; surface cleaned |
Geographies
Iran (Place of Origin)
Measurements
H: 6 3/8 x W: 3 5/8 in. (16.2 x 9.2 cm)
Credit Line
Acquired by Henry Walters
Location in Museum
Not on view
Accession Number

In libraries, galleries, museums, and archives, an accession number is a unique identifier assigned to each object in the collection.
W.680
Do you have additional information?
Related Objects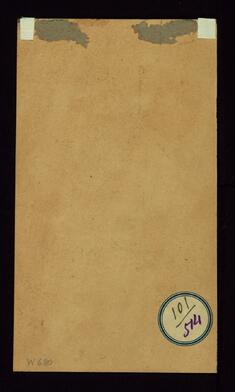 A Young Man with a Flower (Back)
11th century AH/AD 17th century (Safavid)
view details
Young Man with a Flower
11th century AH/AD 17th century (Safavid)
view details