arrow_forward_ios

arrow_forward_ios
Bullet Mold
This bullet mold is associated with the so called "Turkish Hunting Set," and fits into a velvet compartment in the large Parisian Devisme case (Walters 64.165). Overall, the gilded steel bullet mold is ornamented with foliate scrollwork and tiny dots. The bullet was made by packing the bullet powder into the recesses of the mold and pressing together. The desired result would be a small ball bullet about the size of a .58 caliber, which is similar to the measurements on the powder flasks (Walters 51.83) but differs from the caliber of the associated Ottoman gun (Walters 51.84) of the "Turkish Hunting Set."
Provenance

Provenance (from the French provenir, 'to come from/forth') is the chronology of the ownership, custody, or location of a historical object.
Robert S. Pardo, Istanbul; purchased by Henry Walters, Baltimore, 1903; by bequest to Walters Art Museum, 1931.
Exhibitions
| | |
| --- | --- |
| 2015-2016 | Pearls on a String: Artists, Patrons, and Poets at the Great Islamic Courts. The Walters Art Museum, Baltimore; Asian Art Museum, San Francisco. |
Conservation
| Date | Description | Narrative |
| --- | --- | --- |
| | Treatment | Examined, cleaned |
| | Treatment | Examined and cleaned in preparation for exhibition. |
Geographies
Turkey (Place of Origin)
Measurements
Bullet mold closed L: 6 9/16 × W: 1 7/8 × D: 7/8 in. (16.6 × 4.7 × 2.3 cm); Bullet mold fully open W: 6 1/4 in (15.8 cm)
Credit Line
Acquired by Henry Walters, 1903
Location in Museum
Not on view
Accession Number

In libraries, galleries, museums, and archives, an accession number is a unique identifier assigned to each object in the collection.
51.85
Do you have additional information?
Related Objects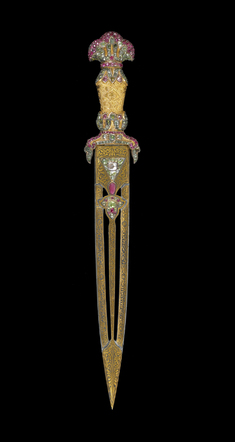 Dagger from the Gun Set of Mahmud I
1145 AH/AD 1732-33 (Ottoman)
view details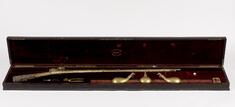 view details