arrow_forward_ios

arrow_forward_ios
Fuchi Remounted at a Box with Legendary Figures
Original: 18th century (?); Mounted: late 19th-early 20th century (Edo-Meiji)
This box was originally a fuchi from Japanese sword that was made into a box. The matching kashira (Walters 51.1330B) is the lid. Nine cartouches around the edge contain images of various legendary figures including the Taoist immortal Koreijin (Ch. Gu Lingren) with his white tiger and several warriors.
Inscription
Provenance

Provenance (from the French provenir, 'to come from/forth') is the chronology of the ownership, custody, or location of a historical object.
William T. / Henry Walters Collection, Baltimore [date and mode of acquisition unknown]; Walters Art Museum, 1931, by bequest.
Geographies
Japan (Place of Origin)
Measurements
H: 1 x W: 1 7/16 in. (2.6 x 3.7 cm)
Credit Line
Acquired by William T. or Henry Walters
Location in Museum
Not on view
Accession Number

In libraries, galleries, museums, and archives, an accession number is a unique identifier assigned to each object in the collection.
57.1330A
Do you have additional information?
Related Objects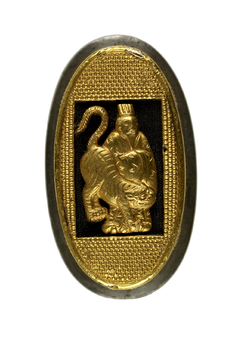 Kashira Remounted as a Box Lid with Taoist Immortal Koreijin
Original: 18th century (?); Mounted: late 19th-early 20th century (Edo-Meiji)
view details