arrow_forward_ios

arrow_forward_ios
The City of Cairo
17th-18th century (Ottoman)
This folio from Walters manuscript W.658 contains a map of the city of Cairo (Misr).
Originally composed in 932 AH / 1525 CE and dedicated to Sultan Süleyman I (the Magnificent), this great work by Piri Reis (d. 962 AH / 1555 CE) on navigation was later revised and expanded. The present manuscript, made mostly in the late eleventh century AH / seventeenth CE, is based on the later expanded version and has some 240 exquisitely executed maps and portolan charts. They include a world map with the outline of the Americas (fol. 41a) and maps of coastlines (bays, capes, peninsulas); islands; mountains; and cities of the Mediterranean basin and the Black Sea. The work starts with a description of the coastline of Anatolia and the islands of the Aegean Sea, the Peloponnese peninsula, and the eastern and western coasts of the Adriatic Sea. It then proceeds to describe the western shores of Italy, southern France, Spain, North Africa, Palestine, Israel, Lebanon, Syria, western Anatolia, various islands north of Crete, the Sea of Marmara, the Bosporus, and the Black Sea. It ends with a map of the shores of the Caspian Sea (fol. 374a).
Provenance

Provenance (from the French provenir, 'to come from/forth') is the chronology of the ownership, custody, or location of a historical object.
Ahmad Afandi [date and mode of acquisition unknown] [see folio 4a]; Ali Afandi [date and mode of acquisiton unknown] [see folio 4a]; Sayyid Ali Qapudan [date and mode of acquisition unknown] [see folio 1a]; Sultan Mahmud Khan [date and mode of acquistion unknown] [waqf seal and followed by a bequest statement (now erased), and the seal of the inspector of wakfs, Mustafá Tahir, see folio 4a]; Henry Walters, Baltimore [date and mode of acquisition unknown]; Walters Art Museum, 1931, by bequest.
Exhibitions
| | |
| --- | --- |
| 2001-2002 | Expanding World Views: A Millennium of Maps. The Walters Art Museum, Baltimore. |
Geographies
Turkey (Place of Origin) Egypt, Cairo (Place Depicted)

Measurements
H: 13 3/8 x W: 9 7/16 in. (34 x 24 cm)
Credit Line
Acquired by Henry Walters
Location in Museum
Not on view
Accession Number

In libraries, galleries, museums, and archives, an accession number is a unique identifier assigned to each object in the collection.
W.658.305A
Do you have additional information?
Parent Object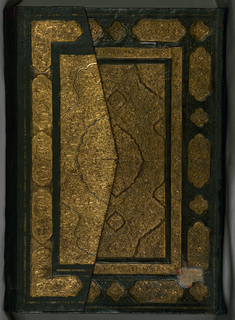 Book on Navigation
late 11th century AH/AD 17th century-early 12th century AH/AD 18th century (Ottoman)
view details